It's tough at the moment for everyone, of course, and tougher for some than others. We thought that we'd put together a post of some recent disability x arts related resources, opportunities, news and whatnot for you to bookmark and check up on when you need a bit of inspiration or cheer. If you've come across something great, please get in touch and we'll include it on our next update!
Creative Opportunities
HOME Theatre in Manchester have a number of exciting, accessible and free things on offer, both for you as an audience and you as a creative professional. They are hosting online talent surgeries and mentoring opportunities for creatives looking for some support during this period of time: https://homemcr.org/event/online-talent-development-surgeries/
Nice Time Arts! We're still taking responses to our 'Accessible Technology' survey, with the aim of beginning a series of weekly online crafty workshops & meet-ups so that we can all stay in touch and not lose momentum. Please follow this link to complete the survey, and feel free to share with anyone else you think might have something to contribute or would like to get involved: https://forms.gle/ukhQGkHmHrN4Ms7V9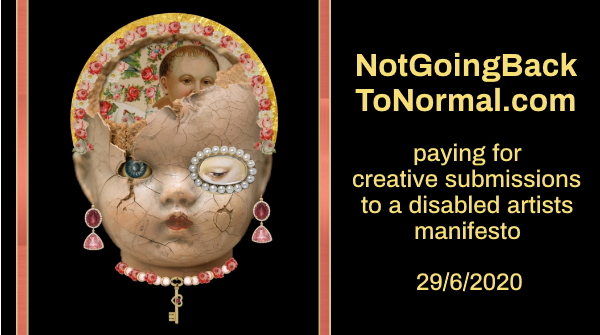 Not Going Back to Normal are looking for creative submissions to a disabled artists manifesto! The manifesto will take form as an exhibition and a book. This is a paid opportunity, and is based on the premise that "…we're not going back to normal. The world is changing, so let's remake it with our ideas. If we want an artistic revolution, this is our chance."
Follow the link to find out more: https://www.notgoingbacktonormal.com/
Still Ill OK (Ellie's other site – hello pals) is always welcoming guest posts, interviews, artwork relating to health and/or disability, views on current issues and more. Please get in touch to help revamp the site during the lockdown: ellie@stillill.uk
Get Creative: Make a zine!
Our Vicky's Pen Fight probably the best place for buying other zine prompts and collections of zines to read and be inspired by! Drawn Poorly have a great 'How to Make a Minizine' resource on their site that is available in various accessible formats, and our fab Still Ill X Pen Fight prompt zine still for sale in our shop and on Etsy.
Zines can be about absolutely anything . You can even break your 'fear of the blank page' by setting yourself a challenge of (this is a funny one we did at Zine club once) 'A Zine of 6 Pokemon each drawn in 60 seconds'. Good luck, and if you'd like some more prompts or inspo, feel free to pop us an email: info@nice-time.co.uk
Theatre from Bed
HOME also have commissioned a series of artists to produce work from their homes, ranging from games to receiving short stories in the post, to theatre, music and more. They are offering tickets on a pay-what-you-feel basis, so you can watch some super current talent from your home for free!
The National Theatre is not only releasing some of its most popular plays on its YouTube channel throughout lockdown, but is also offering a series of insights into how theatre is made, rehearsal processes and lots of interesting bits and bobs.
BeAtHome Festival has a series of videos, performances, recipe cook-throughs and more from artists who were commissioned for the festival pre-lockdown.
Advice & Support
There are mental health resources available from the usual sources below, all of whom have put extra time and effort into producing advice and resources specifically relevant to the current lockdown.
Mind has long-boasted the most comprehensive set of mental health resources, and continues to do so now
And, of course, our beloved NHS.
Manchester City Council has a very plain but very practical mailing list for those of us on the government's hypothetical 'extremely vulnerable' list, which I strongly recommend signing up to if you are within the Greater Manchester area: https://secure.manchester.gov.uk/info/100003/
Here at Nice Time, Ellie can offer professional advice and assistance in matters regarding benefits (PIP, Universal Credit, Carers Allowance, etc.) so if this is something you need, please get in touch: ellie@nice-time.co.uk